European funds
New investment 2014
---

In connection with the receipt of financial support from the Regional Operational Programme for 2007-2013 Świętokrzyski we introduce new products to our range.
This is made possible thanks to the purchase of new machines: CNC lathes and CNC milling machines CNC 3-axis. As a result of the investment, we can also offer reductions Turned milled forgings and forged tees that can be used in many industries including in the gas sector, energy, heat, fuel, and industrial. In addition to the introduction of new products the company will stand out excellent quality, dimensions of our products and expanded product range.
Modern equipment will contribute to greater precision production, which was achieved by fitting company with modern technical and technological solutions.
...dla rozwoju Województwa Świętokrzyskiego...
New workshop 2011
---

Please be advised that due to the completion of the new production hall and the purchase of new park equipment have increased our production capacity.
This enabled us to extend the offer produced steel flanges and other turned parts (including tees turned and turned reductions) as well as the shortening of deadlines.
The offer includes the new positions of their own production, eg .:
Flat flanges DN 600 PN 10,
Flat flanges DN 800 PN 10,
Flat flanges PN 10 DN 1000.
The new machines enable the processing of flat flanges, plugs and neck the external dimension - as tree 2200 [mm].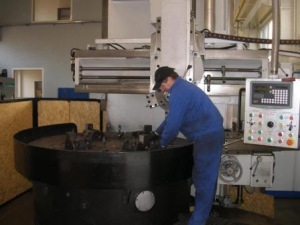 We invite you to cooperate with us !!!
...dla rozwoju Województwa Świętokrzyskiego...

We continue to invest in innovative technologies emerging in the metal industry. In our company, we use the latest and reliable solutions for the efficient provision of high quality services.
Our proposal for funding the development of the company PPUH TAWOL Sp. J. of EU funds has been assessed positively by the Regional Board of Świętokrzyskie for actions Regional Operational Programme Świętokrzyski for Years 2007-2013.
Soon begin the construction of a production hall with the new machinery.
Soon more information on our website.
...dla rozwoju Województwa Świętokrzyskiego...